Long Sutton make it three out of three
---
Published: 12:37, 04 May 2021
|

Updated:
12:37, 04 May 2021
---
---
---
Unbeaten Long Sutton completed a hat-trick haul of South Lincs and Border League victories after a six-wicket derby success over Spalding on Saturday.
A superb five-wicket salvo from Adam Whitaker and a half-century by skipper Dan Oldfield laid the foundations for the win, which keeps Long Sutton among the early Premier Division pacesetters.
They are one of only three teams who currently hold a 100 per cent record.
The hosts had won the toss at Paradise Field on Saturday and Whitaker was quick to make his mark on the Spalding batting line-up.
He bowled Spalding skipper Chris Dring for eight and then trapped Jay White leg before second ball - with Oldfield then getting in on the wicket-taking act by having Ben Smith caught behind by wicket-keeper Adam Wright for five.
Jon Manton and Nilantha Atapattu then set about bringing Spalding back into the contest before Manton (51) was bowled by Peter Cook while Atapattu was caught by Oldfield off the bowling of last week's seven-wicket star Rob Simpson.
Gallery1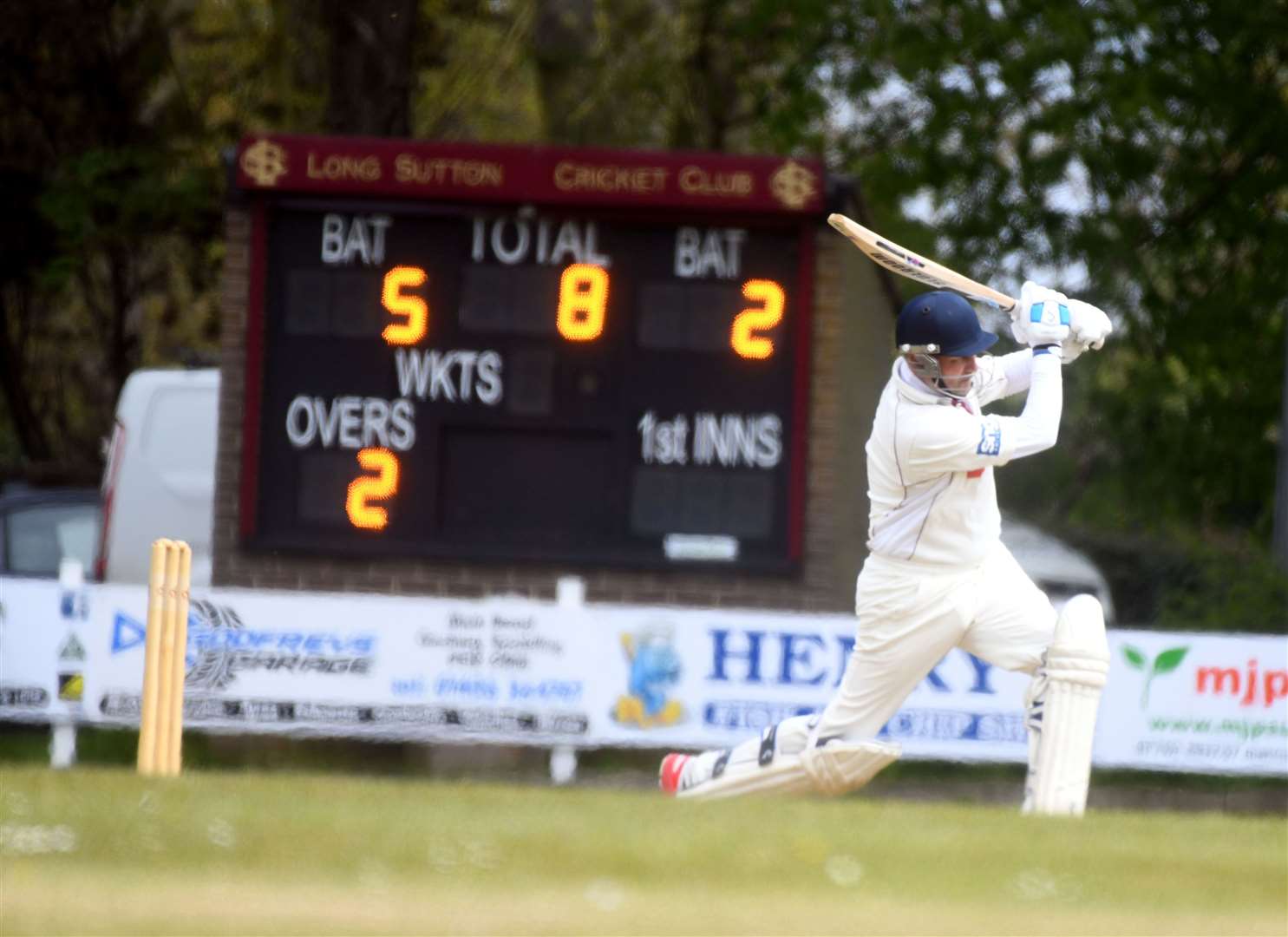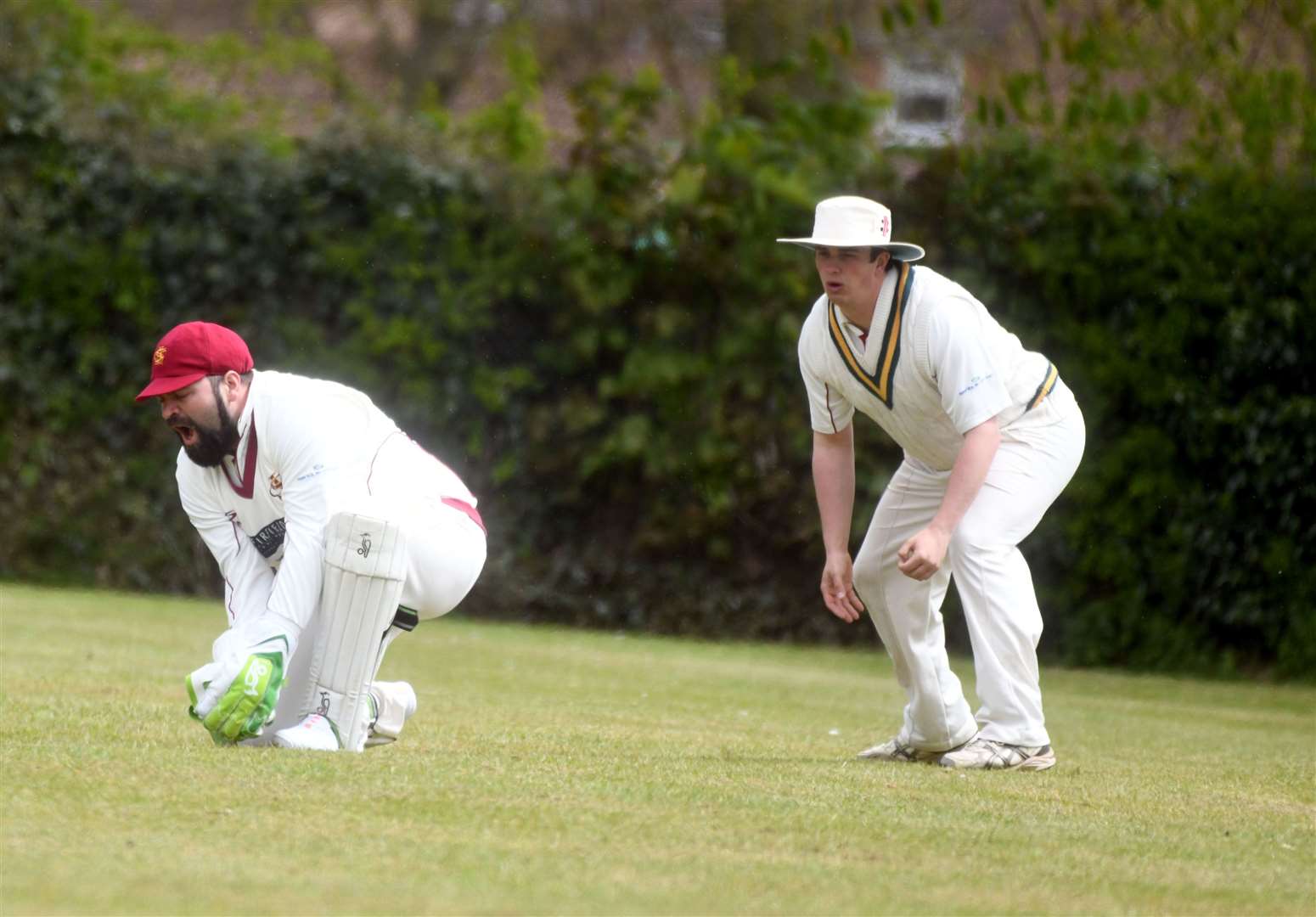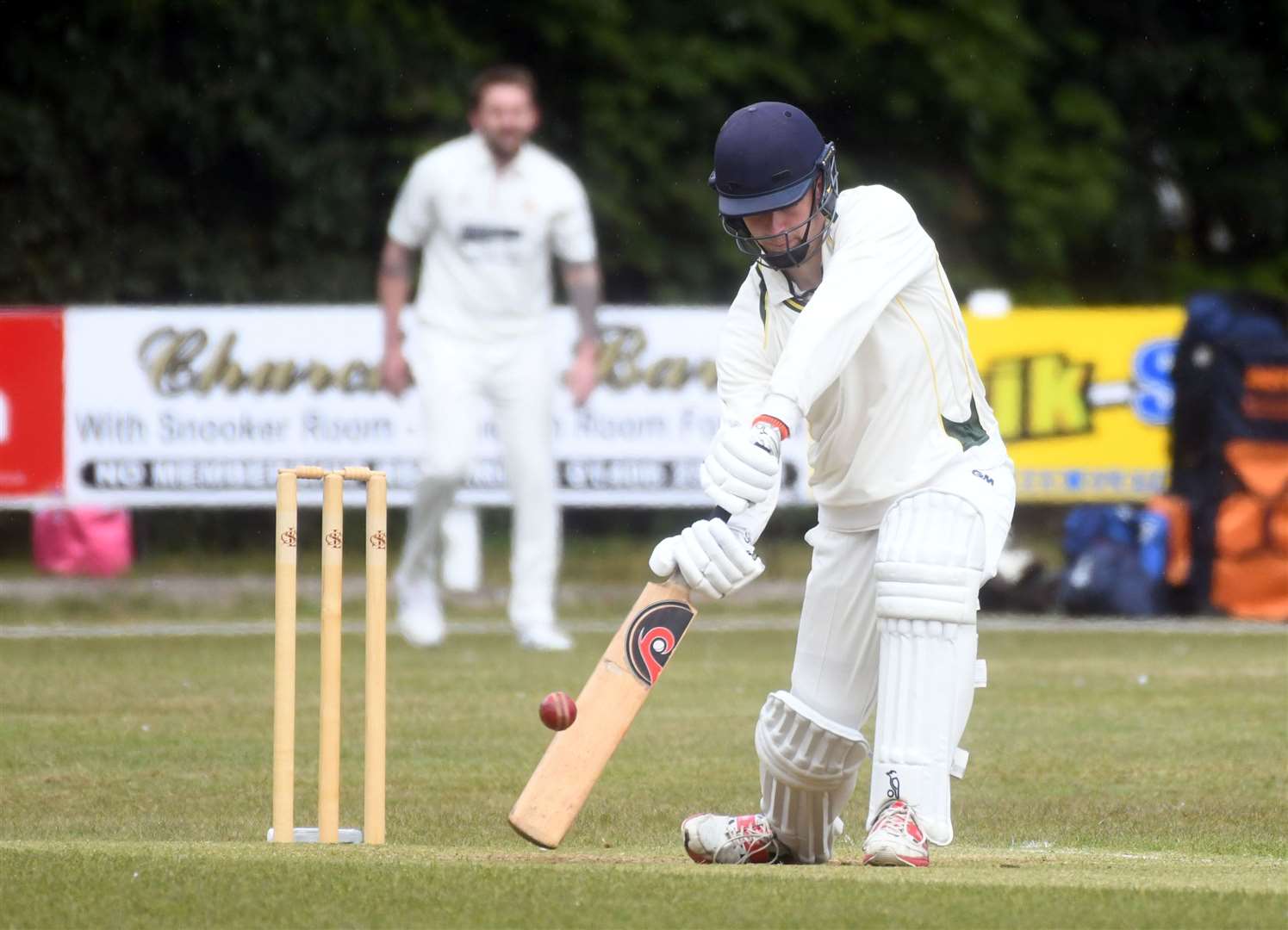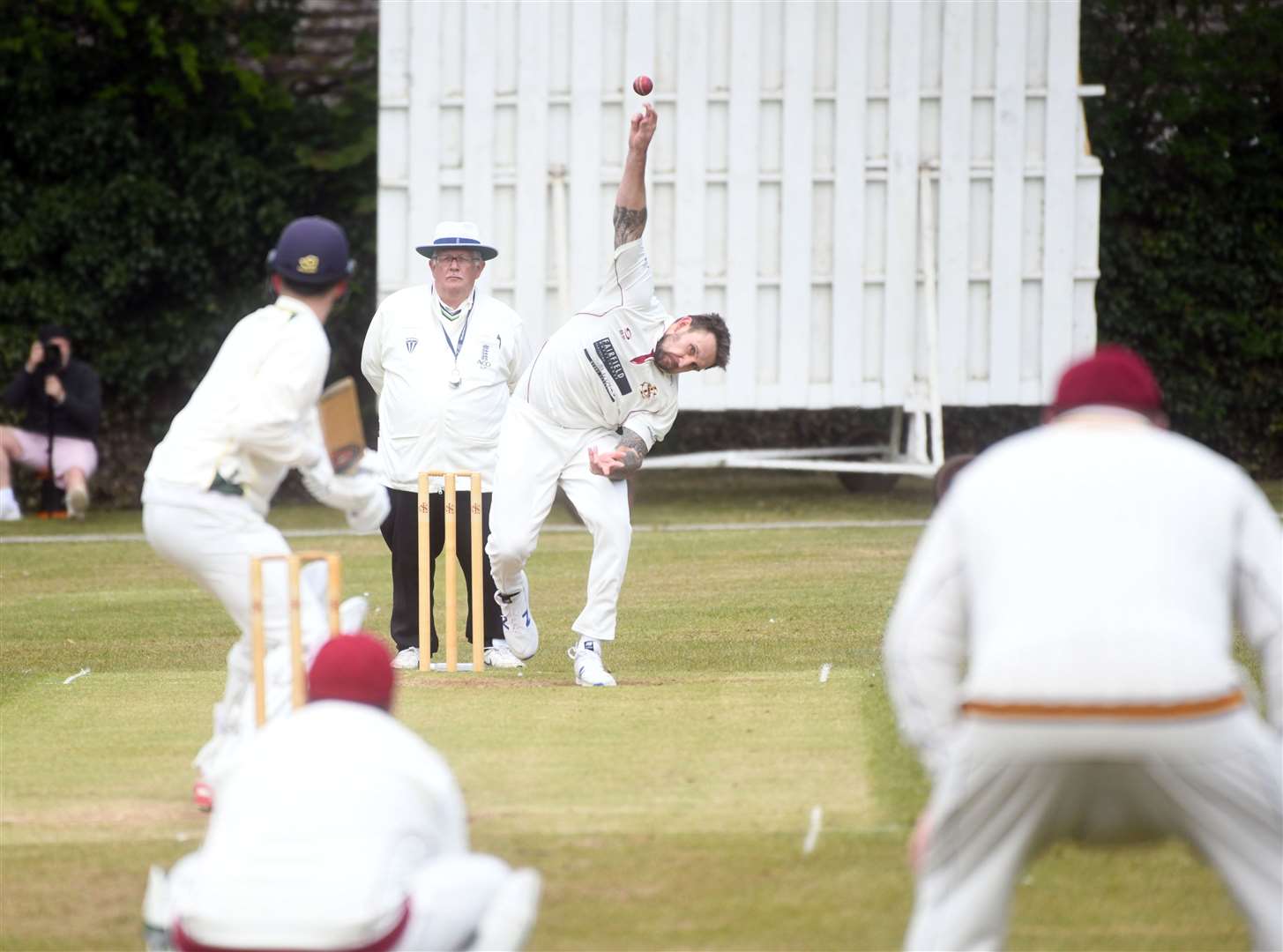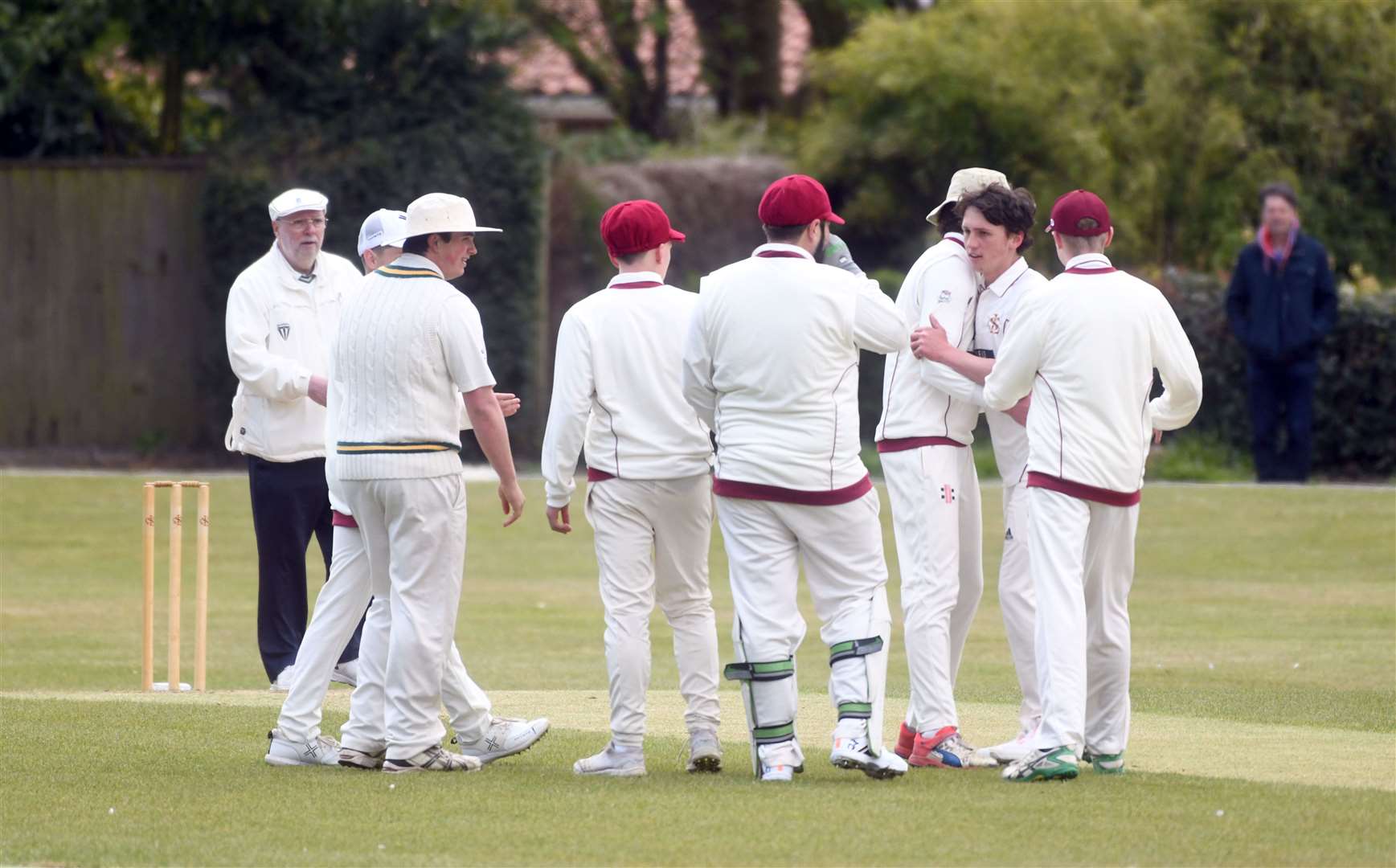 Whitaker dismissed both Ethan Lawrence and Matt Gill for 11 each before Barry Stanway struck with two quick wickets.
Whitaker then bowled last man Will Naylor for three to finish with 5-31 as Spalding were dismissed for 151.
Stanway returned 2-24 from nine overs while Simpson conceded just 21 runs from his 12 overs.
Chris Booth blasted three rapid boundaries to kick-start the Sutton reply until he was bowled by Andrews for 17.
Skipper Oldfield and opener Cook then dominated the Spalding attack before the introduction of DeCamps gave the visitors hope.
He had Cook stumped by Lawrence for 21 and then bowled Oldfield for 55 before repeating the feat to dismiss Wright for two.
However, Jamie Taylor and Stanway forged an unbroken fifth wicket partnership, with both blasting four boundaries in their 18 not out each, as Sutton secured victory inside 32 overs.
Wisbech Town lost a two-wicket Cambs League thriller at Foxton on Saturday.
The visitors fell to 11-3 but top-scorer James Williams hit 81 off 101 balls. He rebuilt the innings with Josh Bowers (30) and Jonny Garner (26) to ensure a competitive target of 164 all out in the 43rd over.
George Gowler 1-27, Garner 3-25 and Chris Clark 1-38 reduced Foxton to 47-3. Gary Freear 2-28 took wickets in the middle order while Kieran Haynes 1-28 removed top-scoring opener Harry Hopwood for 73.
The match was poised with Foxton at 156-8 but their ninth-wicket pair knocked off the runs by the 48th over.
Jamie Gollands struck an even 100 to see Wisbech 2nds win at home to Burwell & Exning 2nds by 83 runs.
Dom Stannard hit 36, Tom Buck 44, Ali Anthony 19 and Josh Porter an unbeaten 33 as Wisbech posted 288-7 in 45 overs.
Brodie Ellis 1-15, Porter 1-25, Joe Dunning 2-56, Ali Anthony 1-30, Lyndon Mallett 2-49 and Gollands 2-23 took wickets steadily while Burwell closed on 205-9.
Wisbech Town 3rds were dismissed for 149 in 34.1 overs to ten-man visitors Cambridge St. Giles 2nds, who triumphed by eight wickets.
Openers Lewis Jackson (66) and Martin Woollard (15) built a good platform, but after that Wisbech collapsed and it was left to Tom Freear (14), Joshua Osbourne (21) and John Mallett (12) to raise the hosts to respectability.
Cambridge St Giles sped to 150-1 in 18 overs, Mallett bagging the sole wicket.
March Town also lost in the Cambs League, by three wickets at Cambridge CC.
March were 201 all out in 48.1 overs. Opener Udana Ranathunga top-scored before being stumped for 49.
Supporting him were Ben Chapman (10), Ruwan Pitigala (39), Andrew George (15) and Curtis Oldroyd (19).
Callum Young 2-41, Rajaguru 2-48, Benjamin Pyle 1-38 and Samuel Clarke 2-35 reduced Cambridge to 146-7 to leave the game wide-open, but March could take no further scalps.
March 2nds lost to Longstanton Grasshoppers by 76 runs.
March were dismissed for 148 in reply to Grasshoppers' 224-8. No further details are available.
Sam Mason recorded 7-1-27-5 for March 3rds who skittled hosts Willingham for 75 within 24 overs.
Mark Deas bagged 1-17, Charles Pooley 2-17 and Ian Foreman 2-9.
The away side also struggled for runs, reaching 76-5 in 20.2 overs with James Beresford scoring 13 and Jacob Gray 20, but wicket-keeper Jamie Chapman guided them home with 15 not out.
March Town 4ths conceded versus Cottenham 2nds.
None of the Chatteris top five reached double figures, but Connor Morton 36, Jake Kaval 24, Adam Whiting 35, Billy Munns 17 and number 11 Anton Kaval 18 not out rescued them to post 166 all out in 42.3 overs at Cambridge NCI.
However, NCI cruised to 167-4 in the 37th over to win by six wickets. Matthew Hollis 1-34, James Fraser 1-24 and Anthony Bamford 2-18 grabbed wickets.
Chatteris 2nds successfully chased a revised target from 40 overs to get home by five wickets with three overs to spare at home to Kimbolton 2nds.
Kimbolton posted 145-6 and leading Chatteris scorers in their 146-5 reply from 37 overs were Ben Perry (10), Oli Bailey (32), Harry Matthews (44) and Liam Boxall (33*).
Gary Freear smashed an
undefeated 88 as Wisbech Town triumphed by five wickets at March Town in Sunday's Rutland League derby.
March closed on 203-8 in their alloted 45 overs. Ben Chapman hit 31, Saranga Rajaguru 24 and Thilina N Batangala 22, while numbers seven and eight boosted the total with Curtis Oldroyd smacking 55 not out off 52 balls and Tom Quinton 43. The pair put on 101 for the seventh wicket.
Away wicket-takers were Kieran Haynes 2-61, George Gowler 1-31, Freear 4-24 and Brodie Ellis 1-25.
Wisbech opener Dom Stannard hit 28 and number three Josh Bowers 57 to back up the evergreen Freear, who hit 13 fours from 100 balls.
Robert Osbourne chipped in with 12; while Harry Gowler 1-39, Quinton 1-46, the steady Rajaguru 2-24, and Sam Mason 1-17 took wickets as the away side sped to 204-5 in 41 overs.
In Rutland Division 3, Long Sutton lost to Ketton Sports by 5 wickets.
Sutton made 145 all out in 41.4 overs: Josh Baker top-scored with 32, Dan Oldfield added 22, Callum John 28 and Oliver Taylor 21.
Adam Whitaker 2-15 and Joe Whitaker 2-35 made early inroads while Charlie Crisp 1-35 dismissed fifty-maker Martin Underwood.
But a determined Ketton middle order saw them home to victory at 146-5 in 28.1 overs.
---
---